Nepal and Sports Adventure, You should Try in Nepal.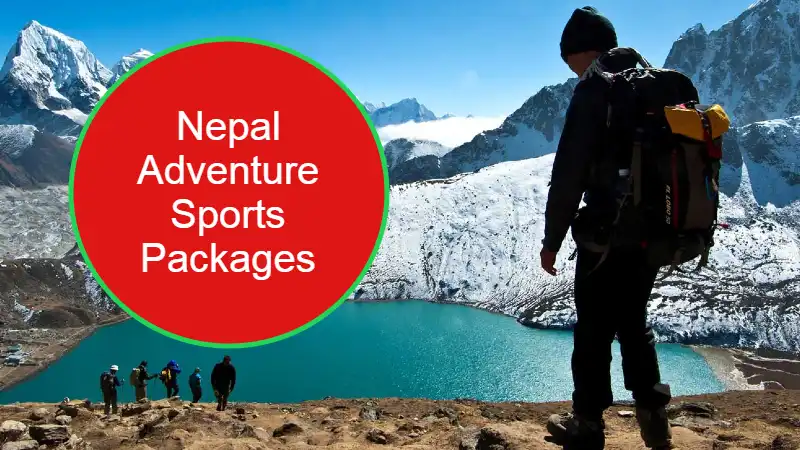 "Life is either a daring adventure or nothing." 
Don't you agree? Life itself is an unpredictable adventure that enhances us every day in many ways. So, why not escapade and explore ourselves on our own in a way that brings nothing but immense pleasure, peace, and satisfaction and makes us daring as well. 
For the hunch of some eye-popping adventures, no place can be better than Nepal. Nepal's sporting adventures are life-changing. They can transform a person completely in a way that the person can become fond of adventures. Let us check out some of such fascinating places in Nepal so that it becomes easier to explore.
Some Famous Adventure Sports in Nepal to visit in 2020
1)Paragliding in Nepal
Do not we all dream of flying high in the sky. Those cool breezes hitting straight on our face, those screams, and the feeling of floating with wind, it is amazing.
Pokhara is the best paragliding place in Nepal. Nepal's natural rising thermals offer the best paragliding experience in the world with low lying valleys and the high cold mountains. Himalayan Peak views from Vintage point make it a life-long experience. With the best experts around it is a must-try adventure without any fear.
The best time to visit is between September and June.
2) Rock Climbing 
If you love to stretch yourself beyond limits and believe in going all the way to get your goal achieved then Rock Climbing on Nagarjuna and Khumbu Mountain is the perfect place for you.
Surrounded by green forests and the great view of valleys on clear days makes it an undeniably wonderful experience.
According to experts one of the best things about Rock climbing is its social side. People climb in the same space and with this, an immediate conversation starts. This is very helpful for people who find it difficult to talk and express. 
But this needs lots of strength, so it is recommended for people who don't have any such health issues. 
The best time for this is the spring season.
3) White Water Rafting in Trishuli River 
Nothing can be a better option than White Water Rafting to vanish your fear. It has unexpected challenges and the uncontrollable flow of water makes thrill run down the spines. It is breathtaking and very distressing. 
It is a difficult task but the trainers out there help so well that one can forget what fear is. Any age group can try this.
4) Pokhara Mountain Biking
Now, this is something fascinating to the next level. Who doesn't love bikes and biking? This can be the most thrilling experience for a biking lover or an on-road adventure lover. It should be tried only if you are properly trained. 
 February and April is the best visiting time.
5) Zip Lining
Zip flyer Nepal is one of the world's longest lining and steepest Zipline too. Its initial incline is 56 degrees, the length is over 1.8 km, and the speed per hour is over 100 miles. Ziplining is the heaven of Pokhara. 
The best part about Ziplining is you just have to sit and enjoy it. It brings out the inner child. One can simply adore nature and its magnificence. If experienced once then one surely wants to relive the moment. 
It is totally safe. Engineers have made each and every zipline carefully and in proper supervision. 
The limitation is that a person weighing more than 120 kg cannot enjoy this ziplining. 
Winter is the best season to visit.
6) Nagarkot to Changunarayan Hike in Nepal
Nagarkot to Changunarayan hike can be the most serene and holy experience. It is the most beautiful temple in Nepal and in Kathmandu, it is the most popular hill station. 
Nagarkot is 7200 ft. from sea level, also Nagarkot viewpoint offers the mesmerizing view of sunrise that brings ultimate optimism with it. 
Changu Narayan is a World Heritage site of UNESCO and is considered to be of the 7th century, hence one of the oldest temples of Kathmandu.
These above mentioned amazing adventure sports in Nepal will not only take your stress away but will also bring a new excitement in life.
We have tour packages for Nepal which include your traveling, breakfast, stay, and much more. If our tourists want we can provide a tour guide as well or the tourist can choose the guide on their own. A tour guide makes sightseeing easy and tells the smallest detail about the place. 
We offer special Nepal adventure sports packages as well which includes adventure sporting places and we have options too from which our tourists can select the places.
Come and enjoy sports adventures in Nepal with us for the best experience.